Midweek Bible Studies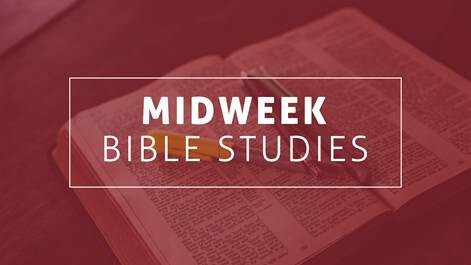 Proven - Teri Pittman - Room #267
8 week Bible study on the Life of Christ
Too many of us walk through life feeling as if we don't measure up. We think if we could only work harder or be better, we could be enough. But the truth is, we will never be enough. And thankfully, we don't have to be. You don't have to prove anything because Jesus has already proven everything!
Marriage on the Rock - Clay & Gina Curtis - Room #266
Regardless of your stage in life or your marriage the personal, practical, humorous and scriptural approach in this study is a must see. Jimmy and Karen Evans have been called by God to change the tide of divorce in America. Marriage on the Rock gives plain and tested ways in which simple obedience to biblical teachings, in dependence on the presence of Christ in life, can resolve the entire range of difficulties that plague marriage today. It tells them how to find the kingdom of God right where they are.
Managing Our Finances God's Way - Bob Kaufman - Room# 264
Managing Our Finances God's Way. God deeply cares about your finances. Many of us think we don't need help with our finances. We are adults, after all, and we can make our own decisions. But the truth is, we all need help - and that's why this study has been created.
Church History In Plain Language - Ron Killough - Room #262
Why should we study church history-why study history at all? Hopefully to gain in this case a better understanding of the church in order to be more effective in the future.
INFLUENCE - Charlsa Hamner - Room #260
Living and sharing a Life of Wisdom
Wisdom. You probably have more of it thank you realize. But what is it, and more importantly what does God say about it? Perhaps Solomon, author of the book of Proverbs, gives us the most concise word on the topic. "Whoever walks with the wise becomes wise." We will take several weeks to look at God's Word, the Bible, to discover for ourselves what God has to say about wisdom. We will look at a variety of mentoring relationships through the pages of both the Old and New Testaments and learn how we can become wiser ourselves and sharing our wisdom with others.
Share Your Faith Workshop - Stuart Sumrall - Room #265
Learn and practice a simple, biblical, effective way to share your faith with others.
Kingdom Man - Joe Oatis - Room #263
This study includes both individual and group study. You will engage in individual, daily devotions and participate in a Bible study group that includes video teaching and discussion.
The Kingdom Man! --- Every man's destiny! --- Every woman's dream!